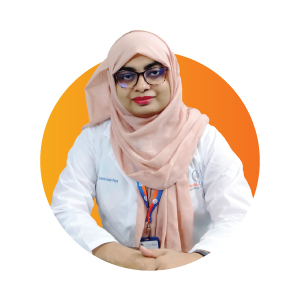 Dr. Farhin Islam Peya is one of the most energetic and entrepreneurial female entrepreneurs in the field of physiotherapy in Bangladesh. She completed her bachelor's degree from the University of Dhaka.
In 2018, Dr. Peya established a modern and comprehensive physiotherapy center in Utara, named Physio Zone Physiotherapy Center. After successfully completing 5 years, Physio Zone is now one of the best physiotherapy and rehabilitation centers in Bangladesh.
Dr. Peya led from the front with the whole team to provide quality services for patients at Physio Zone.
She completed various short courses from recognized institutes in Bangladesh and India. She is also an expert in women's and gynecological physiotherapy and rehabilitation.
She also works as a consultant for the physiotherapy department of KC Hospital and Diagnostic Center LTD. Formerly, she worked at the Bangladesh Spine and Orthopedic Hospital and the Remedy Physiotherapy Center in Panthopath.
Dr. Farhin always tries to gather new knowledge, now she is continuing her higher education at YBN University in Ranchi, India.